How to Update Payroll Pro
If you have Payroll Pro installed on your computer, you can update as follows.
If Payroll Pro is installed on another computer which is not connected to the internet, please see the section further down this page on how to update.
You can update anytime since any update on our website will contain the tax rates for the whatever the current financial year is. This means you can never accidentally update too early. Payroll Pro will always use the pay period date to automatically select the correct rates.
---
1. Run Payroll Pro.
---
2. Locate the version number on the screen. You will see the link "Check for Updates online..." just underneath the version number. This is at the top of the main menu:

---
3. Alternatively, you can click HELP then choose "Check for Updates online" from the drop down menu.
---
4. Next, the download box will appear. Click "Download Now".
Wrong version number showing? - if you have been advised that a particular update version is available but the latest update available in the download box shows your current version and not the new version, please click here for one extra step.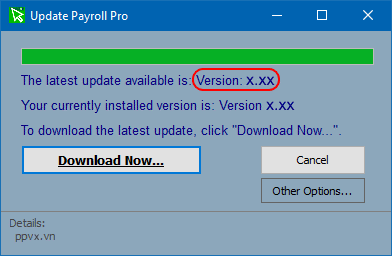 ---
5. Follow any instructions, and Payroll Pro will be updated.
---
If Payroll Pro is installed on a computer that is not connected to the internet:
You can download the file ppver2up.exe and save this onto a flashdrive. Then copy this file into the PayPro folder, and run it. For example by using "Computer" (or "My Computer" on some earlier versions of Windows). Click on the download link below to download this file.

It is unlikely you should have any problems, but if so please see the following:
Windows may be blocking the update process, so you may need to run Payroll Pro as an "Administrator" to update. To do this:
> Right click on the shortcut icon on your desktop, and choose "Properties".
> Next, find the "Compatibility" tab and select this.
> Locate "Run as Administrator" and tick this.

> You will find that each time you run Payroll Pro, Windows will ask you if you are sure you want to run this program - just answer Yes (or OK).
If this still does not help, please click the link below for more information:
About the Update:
Information about what has changed in legislation and in the latest update can be found here.